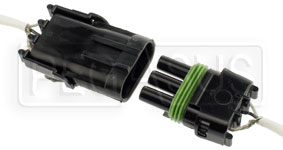 Weather Pack Sealed Electrical Connectors
The Weather Pack system is a modular electrical connector system that seals the connection against moisture and dirt. The system's reliability (proven in use on many brands of street cars) makes it ideal for race car electrical systems. Rated from -40°F to 257°F, to 16 volts DC and 20 amps maximum.

Weather Pack system components:
"Tower" body (part 4185-001 through -005)
"Shroud" body (part 4185-001 through -015)
Male terminals (part 4185-030 through -032)
Female terminals (part 4185-040 through -042)
Weather seals (part 4185-070 through -074 and -090)
These connectors require a special crimping tool such as our Part Nos. 4185-099, 4185-150, or our Part No. 4185-094 handle with Part No. 4185-095 die set. Makeshift crimping methods will result in an unreliable connector and unsatisfactory seal.
Recent Top Seller for this product group

Quick Change Ratcheting Terminal Crimping Kit

Our Crimping Kit crimps most automotive electrical terminals, from Weather Pack to spark plug wire, and nearly everything in between! The ratcheting handle assures a perfect crimp every time.
* Quantity Pricing Available