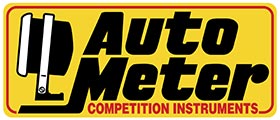 Auto Meter Gauges
Auto Meter Competition Instruments have been found in winning vehicles since 1957. From club racing to NASCAR, from hot rods to F1, Auto Meter has been a leader producing reliable, high-quality gauges.
Related Product Categories
Recent Top Selling Products for this category

Dash Badge Identification Plate (Oil)

This red-on-black OIL Dash Badge ID plate identifies warning lights on your dash quickly and clearly. High-quality plastic backed with reliable 3M adhesive.

Mechanical Fuel Pressure Gauge Isolator Kit

The Auto Meter Fuel Pressure Gauge Isolator Kit allows the use of a mechanical pressure gauge while keeping dangerous fuel and hot fluids out of the cockpit.

10 ft Nylon Tubing Kit for Auto Meter Pressure Gauges

This kit includes a 10" length of 1/8" diameter nylon tubing, ferrules, and adapters. For use with all Auto Meter pressure gauges up to 200 psi except brake pressure and fuel pressure gauges.