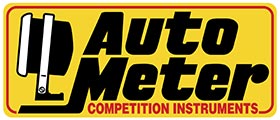 Auto Meter Gauges
Auto Meter Competition Instruments have been found in winning vehicles since 1957. From club racing to NASCAR, from hot rods to F1, Auto Meter has been a leader producing reliable, high-quality gauges.
Related Product Categories
Recent Top Selling Products for this category

Auto Meter 2" Mounting Cup, Black

If you don't have a vertical dash panel in your vehicle, this mounting cup may help. The base can be screwed down to a horizontal panel or hose-clamped to a steering column.

Dash Badge Identification Plate (Oil)

This red-on-black OIL Dash Badge ID plate identifies warning lights on your dash quickly and clearly. High-quality plastic backed with reliable 3M adhesive.

Auto Meter Weld-in Adapter for Mechanical Temp Gauges, Steel

This AutoMeter Weld-In Adapter lets you weld or braze female 5/8-18 threads to any steel tube, tank, or oil pan. Accepts most American-made gauges or any other gauge with 5/8-18 threads.