Using Negative-Ground Pumps in Positive-Ground Vehicles
Two-wire pumps are easy!
Electrical fuel pumps with two wires (such as the Facet Cube-Style pumps) are easy to install in positive-ground applications. The body of the pump is not part of the circuit, so wiring these pumps for positive-ground is as easy as reversing the wires. Simply connect the red wire on the pump to the vehicle chassis, and connect the power lead from the vehicle to the black wire on the pump.
Single-wire pumps must be isolated
Pumps which ground through the body (such as the Facet Cylindrical pumps) require the addition of our Part No. 1130-HD Facet Heavy-Duty Fuel Pump Mounting Kit (sold separately). The rubber isolators in this kit insulate the body of the pump from the chassis. Connect the positive wire from the pump to the vehicle chassis, and connect the power lead from the car to the pump body as shown.
Note: Avoid using conductive fuel lines such as braided stainless hose or metal tubing in these installations. At least a short section of rubber fuel hose is necessary to prevent short circuits.
As in any installation, Facet recommends installing a 3- or 5-amp fuse in the power lead to protect against short circuits.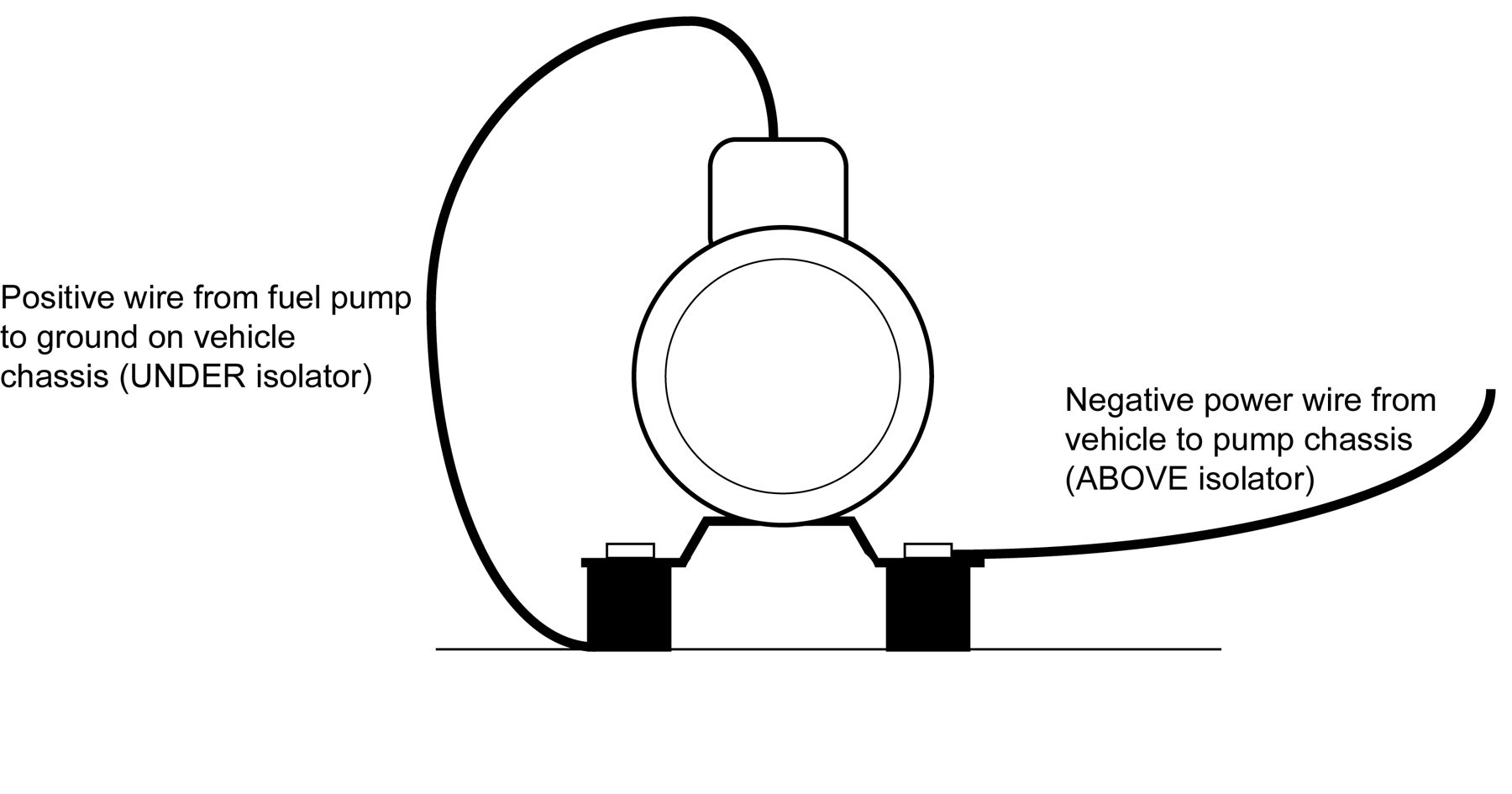 Choosing the Right Negative-Ground Pump
The following chart was excerpted from the July 1965 issue of the Alfa Owner, the newsletter of the Alfa Romeo Owners Club. Many thanks to Ted Medley for compiling this information and to Brian Shorey of the AROC for making it available online.
Volts
Ground
Black Top
2.75 - 4.0 psi
Silver Top
4.0 - 5.5 psi
Red Top*
6.5 - 8.0 psi
Blue Top*
6.5 - 8.0 psi
12 V
Positive
477223
476090
480540
480535
12 V
Negative
477060
476087
480532
480534
* The only difference between the Red Top and the Blue Top is a finer 74 micron internal filter in the Red Top pump. The Blue Top comes with a coarser 400 micron internal filter.
Read more about Facet fuel pumps: