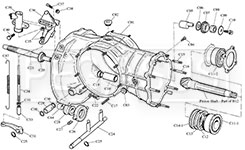 Webster / Hewland Mk-Series Maincase Parts (Drawing C)
Recent Top Seller for this product group

FF Bobbin for F3 Clutch, 1.94" Long, 7/8" I.D.

This Bobbin is 1.9375" long with a 7/8" ID. Fits most Formula Fords with the a 2.125" thick transmission adapter plate, F3-style, single-disc 7.25" racing clutch, and external clutch slave cylinder.
Image

Part No.

Description

Price

Status

1407

$12.49
In Stock

1410-C03

$19.99
In Stock

3750-020

$7.99
In Stock

1410-C04

$1.79
In Stock

1410-C05

$105.99

Not In Stock

1410-C06

$43.99
In Stock

1410-C07H-4

$259.99
In Stock

1410-C07-5

$87.69

Not In Stock

1410-C08

$41.99
In Stock

1410-C09-2

Retaining Washer for Webster Reverse Idler Gear - 5/16" Hole


$66.99
In Stock

1410-C10-1

$1.79
In Stock

1410-C10-2

$1.79
In Stock

1410-C11-1

$324.99
In Stock

1410-C11-2

$89.99
In Stock

1410-C12-06

$3.99
In Stock

1410-C12-08

$3.99
In Stock

1410-C12-12

$4.79
In Stock

1410-C12-15

$7.49
In Stock

1410-C12-20

$3.99
In Stock

1410-C12-24

$3.99
In Stock

1410-C13

$14.99
In Stock

1410-C14-1

$45.99
In Stock

1410-C15

$4.49*
In Stock

1410-C16

$6.99*
In Stock

1413-Size

$52.49
to
$61.99
In Stock

1410-C17

$5.99
In Stock

1410-C17-10MM

$7.49
In Stock

1416-010

$50.99
In Stock

1410-C18H

$157.99
In Stock

1410-C18

$92.99

Not In Stock

1410-C19

$1.49*
In Stock

1410-C20

$11.99
In Stock

1410-C21-1

$889.00

Not In Stock

1410-C21-2

$999.00
In Stock

1410-C21-3

$999.00

Not In Stock

1410-C21-4

$849.00
In Stock

1410-C22

$4.79
In Stock

1410-C24-1

$144.99
In Stock

1410-C24-2

$22.99
In Stock

1410-C26

$49.99
In Stock

1410-C27

$2.99
In Stock

1410-C28-1

$151.58
In Stock

1410-C28-2

$169.99
In Stock

1410-C28-3

FF2000/S2000 Bobbin for Stock Ford Clutch, 1.10" Long, 1" ID


$129.99

Not In Stock

1410-C28-4

$183.99
In Stock

1410-C29-1

$18.39
In Stock

1410-C29-2

$18.39
In Stock

1410-C30-1

$2.09

Not In Stock

1410-C31-1

$107.99

Not In Stock

1410-C31-2

$92.99
In Stock

1410-C33H

$45.49
In Stock

1410-C33

$29.99
In Stock

1410-C34H

$67.99
In Stock

1410-C34

$39.99
In Stock

1410-C35

$1.49
In Stock

1410-C36

$184.99
In Stock

1410-C37

$1.49
In Stock

1410-C38

$0.99
In Stock

1410-C44-1

$4.99
In Stock

1410-C44-3

$5.99
In Stock

1410-C44-4

$7.99
In Stock

1410-C47

Return (Extension) Spring for Clutch Release Actuating Lever


$7.99

Not In Stock

1410-C50

$3.99*
In Stock

1410-C51

$6.49*
In Stock

ARP300-0501

$7.85
In Stock
* Quantity Pricing Available