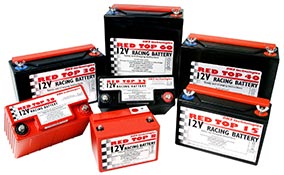 All Racing Batteries
The tried-and-true DMS/Varley Red Top batteries are standard equipment on many European-built racecars, and in many cases, nothing else will fit properly in the battery compartment.
The lightweight but powerful sealed RG (Recombinant Gas) batteries will not leak, even when mounted upside-down!
The Antigravity Lithium batteries feature lithium-ferrous dry-cell technology to deliver a quick burst of energy for starting.
Related Technical Documents
Recent Top Seller for this product group

(B) Varley Red Top 40 Battery, 39AH

Varley Red Top Batteries are specifically engineered for racing. The Red Top 40 is perfect for large GT and Touring cars.